Albany Municipal Airport
About this page:

Last Updated: May 8, 2017

May 8, 2017
The Albany Municipal Airport was dedicated in 1931. In 1998, the airport became the first airport in Oregon to be named to the National Register of Historic Places, and was the City of Albany's fourth National Historic District.
Ongoing projects by the City are seeking to preserve and extend the use of the historic hangars on the property.
Albany Municipal Airport (S12)
FBO Services provided by:

www.infiniteaircenter.com
541-730-3345
Aviation Information
Coordinates: N44, 38.27; W123, 03.57
Elevation: 226
Runways: 16-34 3,004 X 75, asphalt
Approaches: GPS, RNAV, VOR/DME
FSS: McMinnville 122.6
Weather contacts: AWOS 135.775
Charts: Seattle; L1
Fuel: EPIC Aviation 100LL; self-service; most major credit cards; 24-hour
Amenities: Restaurants, hotels, taxis and rental cars available from/adjacent to field. Visit the Albany Visitors Assocation for more information.

Albany Municipal Airport Documents
Current Conditions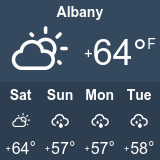 Airport camera: